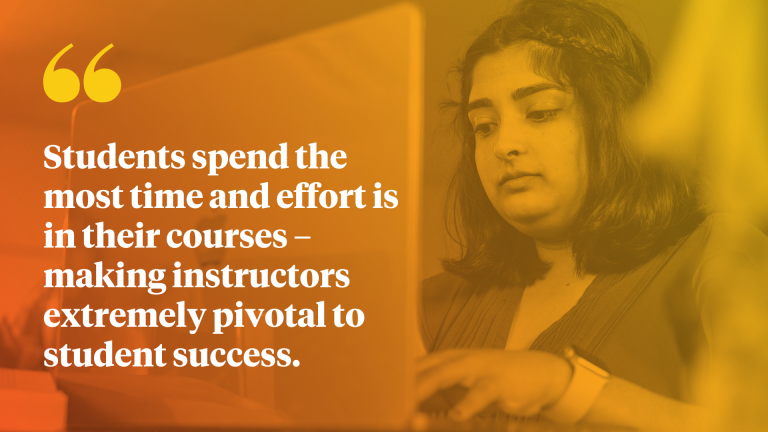 Equipping Instructors to Meet Students Where They Are.png
Students and administrators agree that student success is largely driven by the quality of faculty (90%), engaging content/instruction (90%), and available technology (88%).
While multifaceted, student success is ultimately a reflection of how supported a student feels by an institution throughout their learning journey. And where students spend the most time and effort is in their courses – making instructors extremely pivotal to student success. Institutions wanting to crack the code to student success must start by investing in their instructors. Providing instructors with technology, training, and support not only helps to reach students where they are learning but also helps to build sustainable institutional success. 
Bridge the Gap Between Teaching and Technology
Prioritizing edtech and Learning Management System (LMS) training for both faculty and administrators can help bridge the gap between teaching and technology and aid in reaching students more effectively. One way to achieve this is to take a deeper inventory of the course experience by looking for indicators of student engagement, such as participation in discussion forums, completion of assessments, and even time spent on tasks. This data can be used to identify areas of improvement to support retention efforts, as well as pinpoint struggling students and address them in a timely manner. This type of data-driven approach can also help educators anticipate and respond to student needs and maintain a proactive stance in keeping students engaged. 
In addition to leveraging an LMS to conduct real-time interventions, student success insights can also serve as a starting point in improving course experiences across the board. Understanding how students interact with course material enables administrators to provide educators with best practices that will help them uphold consistency. Improving one course experience may seem like a small step forward, but when guidelines are created and then replicated throughout an institution, it can certainly influence the experiences of thousands of students, leading to retention and growth over time.
Level-up Your LMS with Impact by Instructure
With Impact, institutions can go further, helping teachers and students adopt educational technology to promote deeper engagement with learning while guaranteeing the campus edtech ecosystem is utilized to its fullest potential. Learn how educators are turning LMS data into real-time actions to provide students with course experiences that enable organic, uninterrupted learning.
Related Content
MeasuringWhatMattersSOA.png

StrikingtheRightBalance.png

WhatisAndragogyThe AdultLearningTheory.jpg