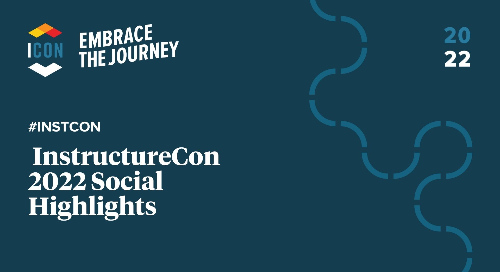 Educators, administrators, and edtech enthusiasts joined together virtually for a day of awesomeness on July 14, 2022.
The day started by gathering on the virtual keynote trail to hear from Instructure executives about their vision for the future of both K-12 and Higher Education, all while scaling mountain tops and off-roading through the Utah wilderness. While CEO Steve Daly searched for the panda in the desert, teachers from across North America built their individual agendas, shared selfies and participated in the "Wall of Voices."
Love our @ClayCommSchools Teachers who joined our #instructurecon watch party today! We love #CanvasLMS! pic.twitter.com/TNUDQL1OHG

— 𝔻𝕚𝕒𝕟𝕟𝕒 𝕂𝕟𝕠𝕩 (@talkintechccs) July 14, 2022
Excited for learning and connecting opportunities during #InstructureCon! pic.twitter.com/BfDpH6LQNP

— Laura Browder (@labrowder) July 14, 2022
One of my favorite shots from #instructurecon. The road to teaching online is not straight & narrow. #Canvas really is that T/L tool that helps teachers navigate & design virtual learning spaces that promote learning. #morethananLMS pic.twitter.com/eSHMuypyCR

— Nicole V. House, PhD (@DrNikki_Beta08) July 14, 2022
love how Steve, Mitch and Melissa welcomed us into #instructurecon by bringing us on a journey through the beautiful #Utah landscape 👍😍 #partneringwiththepanda 🐼 @unicon 🫰@instructure pic.twitter.com/GdGTJxW4UA

— lindafeng (@lindafeng) July 14, 2022
Next up, Simone Giertz, inventor and YouTube star, was interviewed by Instructure's SVP of Marketing, Michelle Suzuki. Simone shared her unique perspective on the importance of STEM education and how educators and students can ask and answer questions through the process of creation.
#InstructureCon just introduced me to @SimoneGiertz and she's fascinating: inventor, teacher, YouTuber. Speaking about curiosity, engagement, being part of creating and changing objects around us. https://t.co/ni79h53B5l @UofT_Teaching

— Shayne Train aka Computermorah (@computermorah) July 14, 2022
Love this idea of being curious, rather than critical, about the world around us from @SimoneGiertz at #instructurecon #icon22 @Canvas_by_Inst @Instructure

— Kiera Beddes, M.A. T.Ed. (@KBeddes) July 14, 2022
Insightful comment from Simone Giertz at #Instructurecon! Nobody ever told her WHY she might want to learn technology or what she could do with it. Every learning objective, every time, should be introduced to every student of every age *starting* with the *WHY*.

— Audrey Bryk-Lee (@LeeBryk) July 14, 2022
I plan to share this Keynote with my young teenage daughter. So many great lessons for her to hear (not from her momma 😉) Thank you @SimoneGiertz! #InstructureCon pic.twitter.com/eq3f1VY00N

— Beth Crook (@bethcrook) July 14, 2022
After a few hours of insightful breakout sessions, high-energy networking, visiting the product expo hall, and all-around-awesomeness, our product leaders gathered around the campfire to share the Instructure Learning Platform's innovation and vision. Enthusiasm for technology-enhanced learning was felt far and wide.
Agreed on Teachers requesting LTIs. Those connections are SO important and it tells me as #CanvasAdministrator that our #Teachers are growing with Canvas. #instructurecon

— Kendra 🍍 (@techinteaching) July 14, 2022
Checking out the K-12 Update session - excited. Student annotation -wow. #instructurecon #canvaslms @Canvas_by_Inst

— 🌺🌻🌈🇺🇦Lausensei (Rachel) (@Lausensei) July 14, 2022
Small steps! Just a few grapes! And then you can make some juice! Lol cracking up over here @InsightPhilED and @JoiNTech914 😆 great session on MasteryPaths, bravo!! #instructurecon #canvasfam @Canvas_by_Inst pic.twitter.com/eGTgMD58Bi

— Jonathan Kasica (@JonKas82) July 14, 2022
Definitely need to bookmark this session with @DrNufer @HowToCanvas so I can replay again to build onto my @Canvas_by_Inst courses. Great session. @Instructure #instructurecon pic.twitter.com/8w7eQy9LyC

— LaToya Pugh (@LPugh3) July 14, 2022
As a new instructional coach, the "meeting teachers were they are" session was beyond helpful. I learned how to tier my Canvas instruction and the tip of creating Canvas vocab cheat-sheets 👌🏻👏🏻 @mj_teaches @Canvas_by_Inst #instructurecon

— Mollie Momenteller (@SHSCoachMollie) July 14, 2022
To close out a spectacular day, organizational psychologist and Wharton School educator, Adam Grant, was interviewed by Chief Product Officer, Shiren Vijiasingam. Adam brought us all on a journey of self-discovery, connection, and hope as he related his insights and personal experience of embracing the educators' path.
Excited to hear from @AdamMGrant in a few minutes at #instructurecon
"Your antidote to burnout is not necessarily less work. It could be more meaning."

— David Christianson 🕊 (@DChristianson) July 14, 2022
I love @AdamMGrant's idea of having students use hashtags in the Zoom chat (e.g., #question, #challenge, #aha, #onfire, etc.)! Totally incorporating this into my faculty development approach! #instructurecon @Canvas_by_Inst

— Dr. Tolu Noah (@DrToluNoah) July 14, 2022
.@Instructure CPO @shirenv answering @AdamMGrant's question about the impact of #edtech and the very first thing he mentions is "the use of technology to get to know your students better." 🌟#instructurecon @Canvas_by_Inst

— Stacey Roshan (@buddyxo) July 14, 2022
Closing thoughts from @AdamMGrant (again likely paraphrased from my notes) a rallying cry for those reinventing edu.

"All of your time honored traditions are just hypotheses waiting to be tested. Embrace experimentation." #instructurecon

— 𝘑𝘦𝘯 𝘙𝘰𝘣𝘦𝘳𝘵𝘴, NBCT (@JenRoberts1) July 14, 2022
@AdamMGrant's closing session was powerful and needed #instructurecon @Instructure

— Philip Jarosz (@InsightPhilED) July 14, 2022
Educators across North America enjoyed networking, panda sightings, and a whole day of fun and learning. Our Instructure fam showed up online to share insights, selfies, and ah-ha moments from the jam-packed day. We loved gathering, even virtually, to embrace the journey – together.
Y'all, I'm enjoying the 'DJ man' way more than I should be. It's seriously something. #instructurecon pic.twitter.com/BDL3XJbrtm

— Kendra 🍍 (@techinteaching) July 14, 2022
Props to @Instructure for making open captioned versions of pre-recorded content easily available at #InstructureCon You've already made my journey much easier.

— Rodney L. Hargis (@rodneylhargis) July 14, 2022
I'm going to be spending lots of PD time watching the #InstructureCon on-demand sessions. Currently watching an excellent session on using HTML & CSS to tweak the design of courses! Excellent & applicable to my @UofT_Teaching work.

— Shayne Train aka Computermorah (@computermorah) July 14, 2022
@Canvas_by_Inst
I am a 1st time #instructurecon attendee. Phenomenal- such an amazing conference, uniquely created & well executed. So much to learn, & implement. Love the #Badges. 👏🏼🏆 pic.twitter.com/pNuG7OA20n

— Patricia Facquet,PhD(c),MSPH,MEdN, RN (@PatriciaFacquet) July 14, 2022
To everyone who attended InstructureCon 2022, thank you! We are honored to be a small part of your journey and we can't wait to see what you do next.

See you next year in Denver!
2023 #Instructurecon in DENVER!!!

— ˜"*°• Hildi Pardo •°*"˜ (@Hildi_Pardo) July 14, 2022
To access the recorded sessions and keynotes, we invite you to access our post-event website.

Related Content
navigatinggenerativeai.png