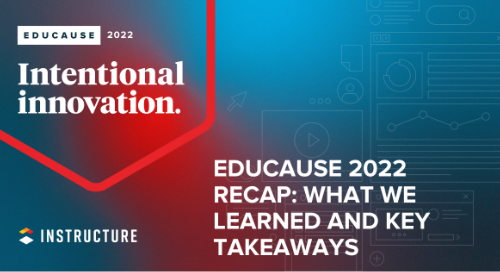 Last week we traveled to Denver, CO to attend the largest community gathering of technology, academic, industry, and campus leaders advancing higher education through the use of IT; the annual Educause conference.
At the conference, Instructure met with our #Canvasfam and incredible community. We also chatted with higher education professionals and universities to showcase our Intentional Innovation.
During his session, Instructure's Chief Product Officer Shiren Vijiasingam announced these exciting new features and intentional updates:
Removal of the deadline to move to New Quizzes

Canvas Admin Analytics: Feature coming in Q1 2023 for free to all Canvas LMS customers

Canvas Data 2: Fresher Data and reduced latency launching early Q1 2023

Canvas Studio updates: In-app editing was rolled out in September
Additionally, Instructure and ASU's Thunderbird School of Global Management announced a partnership to provide equitable access to education to 100 million learners worldwide. This program is powered by Canvas LMS and aims to offer quality online education in 40 languages to learners across the globe. The courses will be provided at no cost to the learner with women and girls accounting for 70 percent of enrollment worldwide.
From feature updates to exciting announcements, to conversations with our community and inspiring keynotes, our time at Educause was eventful and inspiring.
6 Key Takeaways from Educause 2022:
Intentional data is the future of student data privacy

Resource sharing is vital

Digital accessibility is a shared responsibility

The student experience is not a monolith

Universities that evolve, thrive

Higher ed's mission and heart is as strong as ever
What We Learned
1. Student access is not enough, the aim should be student completion
Former Secretary of Education Arne Duncan spoke eloquently to the challenges facing higher education today and what institutions can do about them. Less than half the nation has a college degree and the divide between the "haves" and "have-nots" is exacerbated by present or lack of educational opportunity. According to Duncan, "You never hear, "a college degree is not worthwhile from someone without a degree." In the discussion about the ROI of higher ed, we should also focus on removing the financial and psychological barriers to education and providing a sense of belonging for all students and would-be students.
Other key points from Duncan's fireside chat included:
Learning is no longer bound to the physical classroom

We need more of all higher ed options and opportunities

High intensity tutoring closes learning gaps

Community colleges are regional economic engines

We should be investing in our most precious resource - people
At Instructure, we believe in Education for All and were inspired by the messages of Arne Duncan's session.
2. "Thinking is Giving Way to Doing"
The annual reveal of the Top 10 IT Issues by Educause's Susan Grajek did not disappoint in inspiration as well as action items. In her address, Grajek described the new foundational models that are required for higher education to continue to evolve to meet the current needs of society, students, and faculty. From data to faculty and student retention, the Top IT issues touch every aspect of higher education and the student experience. "Consumers are used to on-demand services, student services should be the same," she said.
Faculty and admin across the globe were invited to share what they would do with their "magic-wand" and the answers were purpose-driven. Eradication of student debt, broadband access for all, better work-life models for faculty and staff, and the erasing of privacy threats were all mentioned. Overall, Grajek's theme was that the time is now for thoughtful, intentional doing, and that institutions should be, "incorporating advantages of tech into pedagogy…for everyone, from everywhere."
3. How to define student success
Stories of institutional experimentation and change are leading the top higher ed influencer space. How can student success analytics continue to evolve to match student-defined definitions of success? Employability, happiness, definable skills and credentials, psychological safety, problem solving skills and critical thinking all were mentioned as possible definitions of, "success."
This discussion directly correlates to our findings in our State of Student Success and Engagement global report. To learn more, download the report.
Thank you to those who stopped by our booth, joined our happy hour, or shared a friendly hello in the hallway. It is always inspiring and invigorating to be with our Canvas Community.
We look forward to seeing you in person again in Denver at InstructureCon 2023 and next year at Educause in Chicago!
Related Content
sohe_6_trends_thumbnail.png