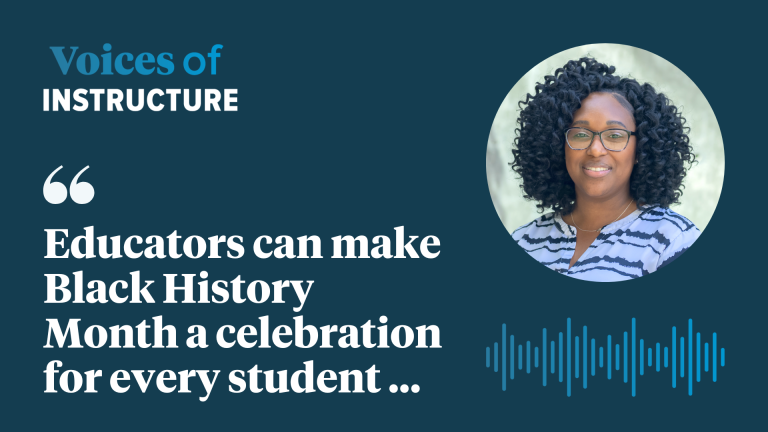 Celebrating Black History Month in the Class.png
Celebrating Black History Month in the Class
All great stories have one thing in common – context. Without the circumstances of a setting to help readers fully understand and assess characters and their motives, a story falls flat. It is the who, what, when, where, and why that brings any story to life. Black History, at its core, is a story – one that has evolved over centuries and is still being told today. To celebrate Black History Month in the classroom, educators should focus on multidimensional stories that represent the customs, arts, struggles, and achievements that have survived the test of time. From music to literature, Black History is everywhere.
Start with Self
Outside of the classroom, students are bombarded with messages from society about who they are and biases about where they belong. Inside the classroom, the onus is on educators to ensure a safe space for students to learn and inquire. How can educators make all students feel safe? Start with self. To effectively teach in a way that cultivates diversity and inclusion, educators must invest in deepening their own understanding of bias and multiculturalism. Fortunately, there are resources available for educators seeking ways to nurture equality and inclusion in the classroom.
Anchor to Inclusivity
By teaching students to have respect for each other, despite their backgrounds or beliefs, educators can help students shape healthy narratives and perspectives of both themselves and others. When teaching Black History, engage every student in the conversation and give them the option to share their thoughts. Every student, regardless of their similarities, is an individual. Providing an optional platform for sharing – whether written, verbal, or artistic – creates a dialogue between students that can increase understanding, empathy, and respect beyond the classroom. Fostering a sense of belonging is as much about similarities as it is about differences. Take time to zero in on what makes Black culture so unique.
Encourage Exploration
Educators can make Black History Month a celebration for every student by building curricula that does not single out students or perspectives but encourages exploration in multiple ways. According to the VARK model, there are four core learning styles: visual, auditory, reading and writing, and kinesthetic. Instead of choosing one form of engagement for students, create a learning environment conducive to all learning styles.
Watch historic films that highlight notable Black leaders and their contributions to society, as well as newer documentaries that celebrate the food, achievements, or culture of Black people today.
Play music by Black musicians (old and new) and open a discussion on how music has been influenced or innovated by these musicians.
Read books and poetry by Black authors during class and encourage students to do the same at home.
Write responses to prompts regarding Black History and what it means to students, and give them the option to share.
Create visual stories using arts and crafts to illustrate important eras or milestones in Black History.
Make the Connection
As February comes to a close, consider how lessons in Black history can be weaved throughout the remainder of the school year. Take the opportunity to demonstrate inclusivity that extends beyond annual celebrations and into the daily conversations students have. By finding ways to connect the lessons of the past to today, educators can help all students recognize the value they hold in shaping the future.
---
About the Author
Adrianne Robertson has several years of experience in higher education and is passionate about diversity, equity, and inclusion in the workplace. She has a B.A. in Mass Communication, an M.A. in Corporate & Nonprofit Communication, and a professional certification in Intercultural Competency. She currently serves as the Senior Manager of Higher Ed Content at Instructure.
Related Content
InstructionalStrategiesStudyHall.png

3WaysToGamifyYourClassroom.png