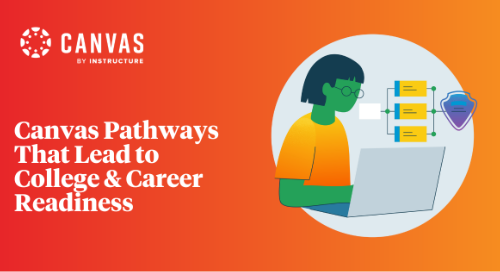 As online learning has continued at many schools, there's a greater emphasis on earning credentials that validate and showcase a student's individual skill sets beyond their grades. Learners need a way to record and share their achievements with potential college advisors and employers to draw a clear line between their education and their desired college and career path. Enter Wolverine Pathways (WP), a college and career-readiness program for junior high and high school students.
This year at InstructureCon, we were lucky enough to be joined by two women, Nargas Oskui and Lauren Richardson, who are dedicated to paving the way to college for highly-motivated students from under-resourced communities.
What is Wolverine Pathways?
Students that participate in this year-round program have the opportunity to engage in curriculum and activities that facilitate their college preparation and academic development. In addition to preparing scholars for college and career success, the program also seeks to address the economic barriers that limit achievement. All scholars who successfully complete WP and are admitted to U-M Ann Arbor or U-M Dearborn receive a full, four-year tuition scholarship to the university.
"It is amazing to have all the staff behind us to know that they're there, and they are actually listening to our needs and concerns, making sure that we get the best education and support system that we need to thrive."
-Bediere Ayuk-Takor, 11th Grade Student
Wolverine Pathways + Canvas: Best Practices & Tools for Building Robust Online Courses
The WP program created its pilot in Canvas to accommodate students who may be engaging with the course remotely. Here are a few lessons the team learned along the way and the Canvas tools used to develop engaging curriculum:
Promoting Student Ownership of Learning with Self-Service Courses
David Conley's "Student Ownership of Learning as a Key Component of College Readiness" was used as the foundational framework for the WP course. The main goal of the course was to build off of the Four Keys to College and Career Readiness to teach students fundamental technical skills, cognitive strategies, and helpful techniques that would empower them to play an active role in their own learning journey.
Oskui and Richardson brought this course to life by creating a robust curriculum that allowed students to demonstrate competencies in 4 key dimensions of college and career readiness at their own pace. Allowing students to move through the course with a clear path of what they needed to accomplish to master a subject or skill provided them with opportunities to set and reach goals independently.
Creating Visual Pathways with Modules
The 8-module course was designed with the end goal in mind, providing students with a clear learning path. Modules are a great tool that can be used to organize course content by weeks, skills, or units. And, you can even use them to create personalized learning plans for specific groups of students that might need additional support or re-teaching.
The WP program includes assignments and tasks for students to demonstrate their expertise and knowledge within each module, allowing them to collect a badge for each section they complete. The modules were designed to build upon each other, allowing students to stack skills as they go and visually track their progress.
Awarding Student Mastery with Digital Badges
Canvas Credentials offers a clear visualization for students to see what they need to accomplish, directionality of the learner's journey with real-time representation of the learner's progress, and a graphical representation of their skills that can be shared with college admissions and employers.
The program used digital badging so students could collect and present their achievements online. Each badge served as a verification of a learner's competencies, skills, participation, and achievements defined by the program. Students were also able to earn micro-credentials when they completed online courses, attended a lecture series, wrote an essay, or passed a test on a particular skill set for a competency.
To learn more about the impact of Wolverine Pathways and the key lessons learned from its pilot program, watch the full session here.

Related Content
MeasuringWhatMattersSOA.png

StrikingtheRightBalance.png

WhatisAndragogyThe AdultLearningTheory.jpg