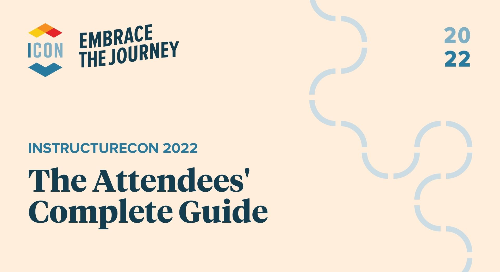 The Attendees' Complete Guide to InstructureCon 2022
If you're one of the 10,000+ people who are attending InstructureCon this coming week, keep this event guide handy and get ready for a day of learning and connecting!

InstructureCon Online Access

Visit the InstructureCon 2022 site for information about the speakers, agenda, and partners. Ahead of the event, register and build out your own custom agenda, or 'favorite' sessions that pique your interest! On July 14th, head to our agenda page to navigate in and out of our sessions. Plus, after the event, you can revisit the site to catch any awesome keynotes and breakout sessions you may have missed (or, just to watch your favorites again) on-demand.

Tech Checklist

Before InstructureCon, check out this sponsor's guide to enable third-party cookies and ensure you're ready to view the event content.
For the best experience, we also recommend running a quick diagnostic test on your system. The supported browsers for this application are: Chrome, Brave 98+, Edge 96+, and Firefox 95+.
Got Questions?

Need help leading up to the event or when you tune in? Before the event, reach out to instructurecon@instructure.com for questions and support. On the day-of, that email is still a great resource! For a quicker response or immediate technical support, take advantage of the Support Chat within the InstructureCon event platform.
When in the Networking space or Live Booth Chats, there is also an InSpace help chat right there with you to troubleshoot that, too!

Ready, Set, Go!

This event will kick-off at 8:00 AM MST. You can add the event, or the General Session, keynotes, etc. to your personal calendar to easily keep track of the schedule in your time zone. Or, check out this world clock converter to determine when to tune in in your time zone!

What to Expect From the Keynote Sessions

Our keynote speakers include Simone Giertz, Adam Grant, and some of our very own Instructure superstars who will share insights into how Instructure helps amplify teaching and elevate learning. A pop-up on the event site will alert you when each keynote is starting, 'cause you definitely don't want to miss them!

What to Expect From the Breakout Sessions

Our schedule is jam-packed with sessions by your favorite Instructure strategists, partners like AWS, Microsoft and Google, fellow educators and technologists. We have sessions dedicated to K–12, higher education, specific products, important industry topics, and more, so you can focus on learning about what matters most to you. Sounds like a ton of great info, right? Don't worry if you can't catch it all; sessions will be available to watch on-demand after InstructureCon. Before the event, browse the agenda – and, once you're registered, you can build your custom agenda, or "favorite" (heart) the sessions you're most interested in.

What to Expect from our Partners

InstructureCon is a great opportunity to connect with dozens of our awesome partners that support and empower the education community in many ways, including complementing and integrating with Canvas LMS!
In the Expo Hall, you'll be able to view demos, access content, enter giveaways, and virtually meet to talk integrations, solutions and innovations, and more. Visiting partners is also a key way to earn badges and points!
Plus, our partners will be streaming sessions from 10AM - 3PM MST, and will be available on-demand within the partner booth in the Expo Hall.

Getting Around the Partner & Product Hall

You can enter the Expo Hall from the top navigation of the event site at any time during InstructureCon. Once in the Hall, you can visit partner and product booths to gather information or ask questions via the live Booth Chat – where you can join a live demo, or virtually meet with representatives in the booth to ask questions and learn more about solutions.

Ready, Set, Swag!

If you've attended a past InstructureCon or CanvasCon event, you know about the highly sought-after swag.
For a chance to get the custom swag this year, you'll need to participate in the live, day-of InstructureCon to earn badges and accumulate points by attending sessions, meeting partners, playing games, and more. The more you participate, the more badges and points you'll get. Points can be accumulated between 8AM - 5PM MST.
The day after the event – you'll receive an email with your point total and leaderboard ranking. If you earned enough points, that email will also include a linked coupon code to redeem—but, supplies are limited! So make sure you are among the first to convert your points and claim.
Don't worry though – all is not lost when this swag runs out. You can still buy Instructure goods in the swag shop.
Need Proof of Attendance?
If you would like proof of attendance, send an email after the event to instructurecon@instructure.com, who will verify and provide a certification of attendance. Please allow several business days for a reply.

Let's Get Social!

We've definitely learned that you don't need to be in-person to be social. Head to Twitter and share your thoughts, impressions, and takeaways using the hashtag #InstructureCon. We'll feature some of our favorite tweets after the event!
Are you ready to Embrace the Journey at InstructureCon 2022? See you there!

Related Content
Driving Student Centric Learning with Human Centered Design .png

A Guide to Digital Literacy and Citizenship Important Strategies and Lessons .png