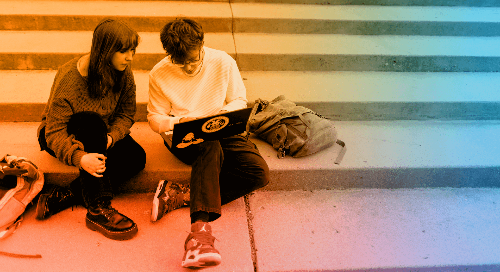 Over the years, student engagement and attendance have served as key metrics of student success, and their importance is expected to continue to grow in importance.
Throughout the pandemic, it became clear that with access to the right tools, students didn't need to be physically in the classroom to remain engaged. Although students and teachers have returned to the classroom and there's a renewed focus on academic achievement, the ongoing use of technology remains foundational in providing multiple ways to measure individual student growth over time.
Maximizing Student Engagement
Here are 4 strategies for keeping students engaged, both in and outside the classroom:
Strategy #1: Gamified Learning Pathways
Gamification in learning seeks to motivate students to complete assignments and tasks using digital elements that embody video games. Except it's not all fun, games, and play, so long as students are intentionally playing. Teachers can do this by building missions and adventures in Canvas Modules, and assigning a point structure to each task. Before you know it, students will be racking up points that count towards a larger learning goal, so everyone wins!
Here are a few tips to help you gamify your coursework:
Provide personalized learning pathways: Ranks and levels can add another dimension to a gamified course, giving students a sense of completion as they "level up." This also allows each student to learn at their own pace.

Be flexible with the format: Give students freedom and choice through tasks they want to complete within the scope of the assignment or project. This activates intrinsic motivation and allows teachers to see where students might need additional guidance.

Follow the Gamification guru and educator Stephenie Jordan on Twitter for more best practices, insights, and inspiration.
Strategy #2: Project-Based Assignments
It's a familiar question that most educators have been asked by students — "When will I use this again?" Bringing real-world scenarios into the classroom shows your students the "why" behind the learning. There's no arguing the relevance of a lesson when students are challenged to solve a complex real-life problem. That's where project-based learning (PBL) comes in.
PBL is rooted in the real-life application of a set of standards or lessons. Students are often provided a prompt, then directed to create an artifact (or sometimes multiple artifacts) to present their knowledge of the subject. Artifacts may include a variety of media such as writings, art, drawings, three-dimensional representations, videos, photography, or technology-based presentations that allow students to draw on their knowledge of one or several subjects to apply their skills in a practical way.
Here are a few examples of student-led projects that make an impact and inspire creativity:
Share a family story: Students can document stories from family members (immediate or extended), focusing on older generations first, then come up with a creative way to publish that story.

Design an app concept: Place students into small groups and ask them to brainstorm a new app idea that would solve a unique problem or create a fun experience, then present that idea to the class.

Research current & historical events: Ask students to select a recent current event and find a historical event it relates to in some way, then ask them to present their findings in a short presentation.
Strategy #3: Collaborative Group Assignments & Discussions
Team projects and assignments are a great way to put that assessment data to good use! Once assessment data provides a clear understanding of what students know and don't know, teachers can use this knowledge to group students based on levels of understanding. Group work also provides valuable opportunities for students to share perspectives and verbalize ideas.
Giving students opportunities to share their thoughts and demonstrate learning in front of their peers drives engagement by increasing accountability and ownership of learning, and allowing students to hear from each other.
A few ideas to promote student collaboration in and outside of the classroom:
Encourage students to share each other's work within smaller groups before asking them to choose one piece to share with the rest of the class.

Ask for one contribution from each group after discussion, with each group nominating a "spokesperson".

Amplify all student voices, even those that are less likely to respond in class, with online discussion boards that prompt students to exchange ideas.
Strategy #4: Interactive Video Content
"Discuss and interact" is the new "watch and learn", and it all starts with interactive video content. Adding layers of engagement within videos encourages interaction, such as embedded quizzes, inline comments, and personalized annotations. These simple additions support students in active learning rather than passive watching.
Teachers can also use videos throughout a course as an additional touchpoint with students. A few ways include:
Provide an overview of a new unit with a friendly video.

Explain a rubric or assignment instructions verbally.

Answer a student question with a screencast.

Break up text-heavy discussion boards with video responses.
When teachers and students have the ability to create, upload, and submit videos of their own—whether it be a presentation, demonstration, peer reviews, feedback, or a personal message—they have multiple opportunities to interact beyond the classroom.
Evaluating Student Engagement
There's an important distinction between content that's been viewed and content that's understood, but teachers must be able to evaluate student engagement in real-time to determine what is holding students' attention and what is falling flat. When teachers can leverage technology to gain a better understanding of how students are actually interacting with assignments and projects, instructional content can be adjusted to improve outcomes and engagement overall.

To learn more about how other schools have used technology to improve student engagement, explore Knox County School's case study here.
Related Content
sohe_6_trends_thumbnail.png