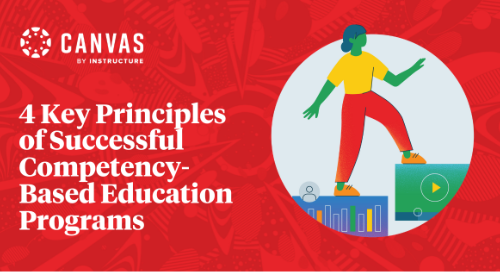 4 Key Principles of Successful Competency-Based Education Programs.png
The convenience and value of competency-based education is helping institutions across the nation support students in actualizing their career goals. Through self-paced courses, students can matriculate through a program as quickly as they can demonstrate mastery of a skill, whether that's through previously-earned academic credit, comparable work experience, or assessment. With the lives of learners growing busier every day, how can institutions build self-service programs for students juggling multiple responsibilities that also offer the right mix of support?
Informed by the Competency-Based Education Network and a look across the industry landscape, we've identified four key principles of successful CBE programs:
1. Credentials are earned through mastery, not seat time.
Unlike traditional programs that only offer assessments when an exam is scheduled, CBE allows students to complete assessments when they are ready. Because of its focus on demonstrating mastery of skills, CBE programs should employ authentic assessments that reflect relevant, real-world situations, e.g., projects or role-plays. While this form of assessment can be more difficult to manage, it helps ensure learner competency.
2. The time it takes to demonstrate mastery is dictated by each student.
Because progress is not based on seat time, some learners can accelerate through programs more quickly. For others who may need more time to learn, practice, and prove mastery, CBE programs provide flexibility without jeopardizing a student's academic progression. Programs with online delivery are ideal for flexible pacing, as assessments can be efficiently repeated, learning can be individualized, and interactions can be asynchronous.
3. Proactive guidance and support are accessible.
While some learners may be able to prove mastery of competencies immediately, many learners will need additional instruction or practice. As with all quality education, this requires people — instructors, assessors, coaches, etc. — to provide corrective feedback on student work, elaboration on topics, or additional guidance and encouragement. Although CBE is delivered online and asynchronously, learners should also have opportunities to collaborate and support each other.
4. Students produce relevant, portfolio-ready work.
One of the most valuable benefits of CBE programs is a student's ability to readily showcase a set of verifiable skills. Assessments in a CBE program should be skills-focused and result in work that can be showcased in a portfolio for prospective employers. For example, a learner's portfolio could showcase certificates, badges, or micro-credentials earned through competency assessments backed by real-world projects and artifacts from the CBE program. Both employers and institutions are finding CBE programs as the solution for narrowing the skills gap in today's workforce.
Keep Human Interaction at the Center
Although CBE programs may be particularly attractive for independent learners, a well-designed program should recognize the power of personal, human interaction for optimal learning and student engagement. Institutions considering CBE should ensure that human presence can be felt in each learning experience through regular, personal feedback that is corrective, constructive, and also encouraging. Students value support from instructors or coaches who express care and interest, as well as opportunities to share their successes with others. A self-paced, online CBE program can be designed to incorporate human interaction while still providing students agency over their academic journeys.
Ready to learn more?
Download the Canvas CBE Prospectus, your roadmap for developing a successful, learner-centered CBE program.
Related Content
sohe_6_trends_thumbnail.png