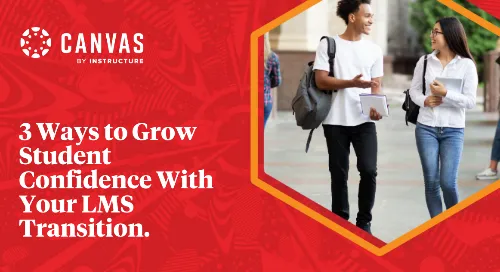 itemeditorimage_6298e5a1235fc.png
3 Ways to Grow Faculty, Staff & Student Confidence With Your LMS Transition
Let's face it, even positive change can feel intimidating. The most seasoned of professionals may experience some trepidation when it comes time to transition to an entirely new learning management system (LMS). However, with a keen eye focused on faculty, staff, and student success, not to mention an outstanding support system by your side every step of the way, the journey can result in more than a powerful, intuitive platform that enriches learning and streamlines processes, it can actually be a fun adventure.
Virginia Union University (VUU), an HBCU (Historically Black Colleges and Universities) located in Richmond, Virginia, is known for producing world-renowned leaders by keeping student engagement, retention, and development at the forefront of every decision. When this liberal arts university chose to upgrade their LMS, their focus was the same—student success in an ever evolving workforce landscape.
When it was time to scale, VUU stakeholders sought a one-stop shop—an LMS that met students where they were, allowed faculty to take advantage of the enrichment features offered through textbooks, book vendors, and third party applications, and simplified teaching so even more time could be spent engaging students, They chose Canvas.
Tunesha Witcher, Director of Integrated Technology at Virginia Union University, and Lisa Capra, formerly with the Canvas LMS training and instructional design team and currently serving as revenue knowledge strategy manager for Instructure, created a multifaceted plan to secure buy-in, accelerate adoption, and ensure success of faculty, staff, and students.
One: Reflect your comfort level
When you provide your academic team with the training they need, their confidence becomes contagious. When Witcher and Capra chose to provide an intensive Canvas training to early adopters and subject matter experts over the summer, they were able to create a powerful pod of enthusiastic ambassadors who in turn shared their knowledge and excitement with the rest of the faculty and staff. Excited by the ease of use and the Learning Tools Interoperability (LTI), this initial group became the champions of the transition for the remaining team members.
With training and support throughout the fall semester, faculty and staff embraced the technology, creating their individual sandbox courses in the process. Capra, wearing a different VUU T-shirt each week, amused attendees and led by example as she showed faculty how to optimize everything from the welcome message to inserting video clips.
"Lisa became a part of the VUU family," said Witcher. "The patience she had with our faculty allowed us to see that not only did she want to make a difference within our university, but that she also had a passion for instruction."
With complete session recordings featuring navigation similar to the student journey, this guiding template allowed instructors to connect the training dots. This nurtured a growing confidence in the new LMS, which soon transferred to the student body.
"When faculty are empowered with the tools and training they need to support the online course development process, that confidence translates into student success," said Capra.
Two: Create an academic home away from home
University and college branding creates a sense of continuity and school pride on and off campus. It provides students with peace of mind in the knowledge that they're exactly where they need to be and have the tools necessary to achieve their academic goals.
VUU's customized template created an extendable learning environment. With a branded, easy-to-use interface, students can now access everything they need for success all while feeling a part of the larger VUU community.
"Without that template, I don't believe transitioning would have been possible," said Witcher. "It allowed us to have a space, a place, and an opportunity to provide a VUU away from VUU. Having that VUU feel, the welcome message, and a branded background, allowed faculty and students to feel VUU even at a distance."
Instructors can easily engage with their students through video, chat, announcements, assignment notes, and more. Students are able to turn in assignments, jump into discussion groups, submit questions through Canvas help, among other things. Quicker turnaround time in almost every aspect of the learning process provides more time to focus on what really matters—student success.
Three: Utilize mobile to meet students where they are—on the go
As the educational ecosystem continues to evolve, technology and institutions must continue to meet students where they are—on their mobile devices. A recent study revealed that higher ed aged students in the U.S. average 8–10 hours per day on their smart devices.
With the Canvas LMS native mobile apps, students, teachers, and parents each get a dedicated app to simplify their user experience and allow them to access what they need, when they need it, from any iOS or Android device.
Because it's a truly native app—not just responsive design—it's fast, easy, and smooth to use. So it's no surprise that of all the LMS apps available, it rates the highest with 2.4 million reviews averaging 4.7 out of five stars.
Having course content, assignments, quizzes, and grades all in one place has simplified student learning. With announcements, messaging, audio notes, and video built into the interface, clear communication flows in all directions.
Of course there's more
Higher education institutions that choose Canvas have robust analytics, allowing faculty and staff to track important data. VUU uses login statistics in student retention efforts. Because they can easily see who is and who isn't logging into Canvas, they're able to reach out to ask if a simple password reset is needed or if there's a more in-depth conversation to be had. With a modern feel, mobile functionality, powerful tools, robust analytics, and accessibility built into the LMS, higher education pros are able to ensure no student gets left behind.
To learn more about how Instructure's services offerings can support a successful Canvas implementation at your institution, contact us. We're here and ready to help.
Related Content
3 Ways to Gamify Your Classroom with an LMS.png