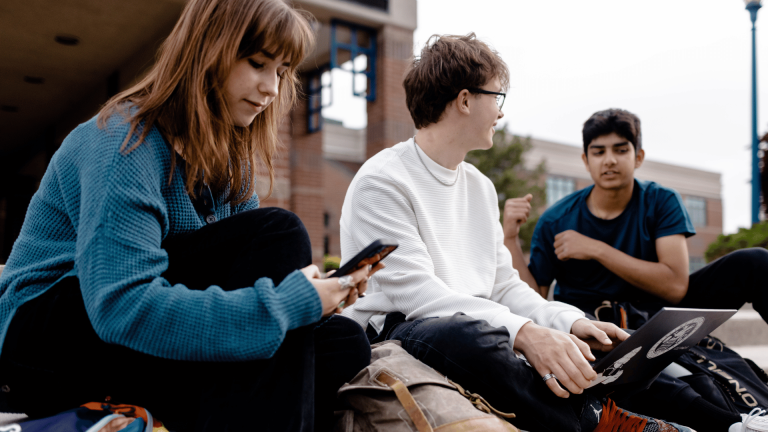 It goes without saying: schools exist to serve students and equip them with the essential skills they need to thrive in life. Moreover, schools are often one of the first opportunities to participate in a community. Teachers and school leaders need to ensure students feel comfortable enough to be themselves and contribute meaningfully to these formative communities in the classroom. 
We like to think of a learning management system as the digital hub of the classroom–both for teaching and learning and for keeping students connected.
In this article, we'll walk through the process of building communities at school and share an inspiring success story from a Maryland school district that exemplifies the potential of student-driven engagement within an LMS.

5 Tips for Building Community at School
Communities don't automatically happen by bringing a group of people together. They have to be fostered. This is true in any environment, and schools are no exception. To boost student engagement, let's look at some ways schools can get started.
1. Evaluate the Existing Sense of Community
From any educator's perspective, it's essential to know your school. Students feel the benefits of a positive school culture between teachers and administrators. Consequently, they also suffer from dysfunctional working relationships. 
Observe how students interact with each other, their teachers, and how teachers interact with one another. What's going well? What needs to improve? Take notes and outline some action steps to get everyone connecting in positive ways. 
2. Focus on Relationships
For teachers in the classroom, connection builds rapport. While it's easiest to establish this from the beginning of the school year, starting fresh at the beginning of every quarter, day, or class section is possible. 
Engage students in the community-building process by asking them, "What do you need to learn in this class?" Students may be able to answer this question immediately. Or they may need some time to get comfortable in the environment and articulate what they need. 
Regardless, giving them the space to speak for themselves sends the message that you value their input, and their voice is welcome. 
3. Commit to Consistency
Consistency matters. It helps us build strong habits, and the same is true for students at school. Ensure that classroom rules and expectations are communicated and implemented fairly. When students know what to expect, this establishes trust.
Bring this consistency to the digital learning environment, as well. Promote guidelines and communicate expectations for how teachers should set up and implement technology in the classroom so that they know how to create their policies for appropriate LMS usage.
4. Ask for Feedback
Relationships are two-way streets. Teachers are responsible for leading students on the right path in their learning journey. One of the main ways they can evaluate their success is by asking students:

As we've said in the past, if you collect feedback from students, you should use it for the growth and betterment of the student. 
5. Trust & Empower Students
Students want to have responsibilities, and they want to be trusted. Consider giving them a glimpse behind the scenes of how decisions are made or give them a chance to take ownership of processes in the classroom. When students can speak and have their voices heard, they will feel more confident to show up as fully themselves.
Howard County's Story: An Accessible Student Life Portal in Canvas LMS
In some ways, thanks to social media and technology, today's students are more connected than ever before. That said, the negative impact of social media on students' well-being is well-known. However, what if there was a positive digital space where students could filter out distractions and focus solely on school? No likes, fewer comparisons–just the information they needed to succeed. 
At Howard County Public School System in Maryland, students and faculty have built just that. A group of students at Howard County approached faculty about using Canvas LMS to communicate the latest events in student life.

Because of how excited students were and their team's desire to empower students to take ownership of their learning, they trained students on using Canvas for content creation and granted them a 'student leader' role. Guided by an adult facilitator, they edited pages, sent announcements, and shared a master calendar about athletics, upcoming college visits, and more. 
Leslie Ammann, School Librarian and adult facilitator, shared the vision behind the student life and staff portals in Canvas LMS:
"We've tried to make the student and staff courses the hubs for all school information. If students need to know anything about an event, club, appointment, or application/document, it is in the Canvas course. We have tried to anticipate what students would want to know. The most utilized are our individual clubs, the morning announcements doc embedded into the course, and event/sports information. Once student clubs are up and running, students send out their club messages and are responsible for maintaining their clubs."                                                                                                   
One student who worked on the portal shared their views on having the chance to create in Canvas:
"From my perspective, I'm quite satisfied with managing the student life portal in Canvas. It's designed to make it incredibly simple to communicate announcements and updates to students efficiently. Thanks to the intuitive search system, adding students to clubs and groups is a breeze. Similarly, from the student's end, navigating the portal to gain information is straightforward and user-friendly. This ease of use significantly enhances my role in managing the student life portal."
Wray's team mentioned that giving students insight into how their teachers manage their courses has also sparked curiosity for collaborating with their teachers in course design and building the best systems to fit everyone's needs. 
In addition to keeping students connected, Canvas keeps Howard County's faculty up-to-date on everything they need to know. Ammann explained:
"The staff course has been designed to replace the bulky 72-page staff handbook we previously utilized. We have had documents in too many places in the past, and we are trying to make one central location for everything. Next year, we hope to have the handbook replaced completely."

Uplifting Communities Today = Empowered Citizens Tomorrow
Many students are ready and capable to build a positive community at school; they need the opportunity to lead. 

With Canvas LMS, schools can build a community. They can bring students together to connect and the tools they need to succeed at school. Learn more about how schools like Howard County are growing with Canvas LMS.