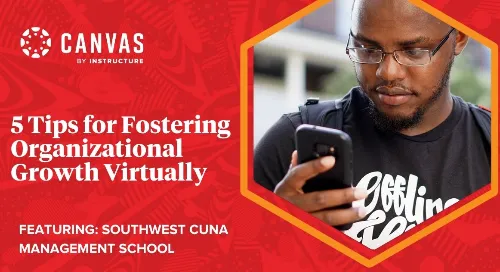 itemeditorimage_6203efaec62a5.png
Impactful corporate learning is highly personal and centered on networking. When the pandemic forced the world online, corporations grappled with how to transition their in-person training programs. It wasn't just a matter of digitizing a curriculum. It required replicating unique face-to-face networking in a screen-to-screen environment.
Virtual learning was virtually non-existent at Southwest CUNA Management School (SCMS), a three-year executive training program for credit union professionals. SCMS used Canvas LMS to convert 160 hours of in-person courses online during the pandemic. What started as an emergency solution is now an integral part of the SCMS experience.
SCMS Director, Janine McBee, recently spoke with Instructure about their school's success story and offered strategies for other organizations shifting their executive training online.
1. Use a LMS as a Central Hub
While educational institutions relied on existing learning management systems (LMS) to quickly pivot during the pandemic, many corporate learning programs did not have the same digital infrastructure.
With varying levels of LMS experience, the faculty at SCMS needed an easy-to-use, easy-to-learn solution. Canvas was a solution that "someone with no background could learn rapidly," McBee said. Having everything — content, communication, assignments, calendars — in one spot made for a seamless transition.
After the first year with Canvas LMS, more than 80% of SCMS professionals would recommend a blended learning environment moving forward.
2. Plan for Mobile First
With blended learning the new norm, leadership development programs not only need to offer their training online but also harness the power of mobile apps. Designing curriculum with a mobile-first approach will ensure continuity for executive training programs post-pandemic.
For SCMS, Canvas' mobile app kept them afloat and learners engaged during the pandemic. Professionals were not limited by location or wifi connection to access training content and communication. This autonomy is essential for corporate learners navigating work and study simultaneously.
"Having the mobile app is what kept us in function mode," McBee said. "I didn't have anyone who couldn't access a course. It gave the students options. Being able to access Canvas on an app was a refreshing experience and an unexpected bonus."
3. Redesign Curriculum with Intention
Going virtual with corporate learning programs isn't a matter of simply digitizing content.
"We didn't want to take eight hours of classes and make it an eight-hour day on Zoom.
That is excruciating," McBee said.
So SCMS seized the opportunity. As McBee put it, "we blew up the curriculum." The team
intentionally redesigned 50 courses for a virtual experience and brought on two-thirds
new faculty.
Instead of lengthy lectures, SCMS chopped up content into bite-size pieces.
Microlearning courses on credit union fundamentals like key ratios gave users a "safety
net" to review content on Canvas — anytime and anywhere — instead of leaving a
physical classroom without grasping concepts.
This "mobile and micro" strategy gave executives autonomy and flexibility in their learning path.
4. Engage First, Learn Second
Networking is a key selling point for corporate learning programs. How can a personal, face-to-face experience be replicated screen-to-screen? SCMS relied on heavy use of communication tools to build a robust community with their virtual cohorts.
SCMS faculty leveraged Canvas discussion boards for engagement activities even before instruction started. McBee said one "getting to know you" prompt led to over 600 posts from just 58 users.
These activities humanize the peers behind the screen, McBee said. Prioritizing these connections reaped benefits — 92% of SCMS professionals said they expanded their network during the school's first year of virtual learning.
5. Tap into Alumni Network for Mentoring
SCMS helps credit unions develop future leaders and connect them to a broad credit union professional network. To facilitate that connection virtually, the school tapped into their alumni network to help with the transition to online learning.
Alumni served as ambassadors to the new all-remote cohorts, to support the classes but also be eyes on the ground for administrators. One alumna ambassador said she was skeptical of the ability to transition SCMS' in-person experience to a virtual one.
"If I'm honest, I was not sure how it was going to work. The SCMS team did an excellent job creating a space for true learning to take place each day," the alumna ambassador said.
Southwest CUNA Management School successfully transitioned their in-person executive training program fully online in a matter of months with the help of Canvas LMS. The easy-to-learn LMS, coupled with SCMS' intentional curriculum redesign, resulted in 80 percent of learners recommending blended learning moving forward.
Read more about SCMS' experience pivoting to virtual learning in this case study or request a demo for your corporate education institution.
Related Content
navigatinggenerativeai.png