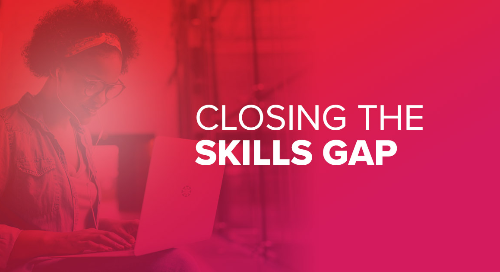 Learning to Adapt: Enabling Teachers to Close the Skills Gap
It's pretty universally agreed that there simply aren't enough skilled candidates to meet industry's needs, and that, ultimately, it's down to educators to fix it.
At Instructure, we talk about not just a skills gap, but a fundamental skills mismatch. And we believe that it's crucial to understand where the mismatches between the needs of employers and skills of students in higher education (HE) lie.
And a good place to start is by looking at technology.
By far and away the greatest issue that employers report is around digital literacy; and their desire for tech-savvy graduates, ready to enter the working world. The pace of technology development in industry is astounding – and, simply put, if we don't help students acquire adequate digital skills in the classroom, we are limiting their chances in the world of work.
And it's a natural fit. Technology use in university life supports a learning style which appeals to young minds. Many students in higher education already use social media to question, challenge and enhance ideas in all aspects of their lives, and these tools can be brought into the teaching environment. Technology like online learning systems help students develop digital literacy, help with problem solving skills, encourage applied knowledge and hone investigative skills - all of which are crucial not just to their education - but beyond, into the workplace.
Learning to teach
However, we believe that if you're going to prioritise digital literacy, then you might want to start by looking closer to home, to your own Continuing Professional Development (CPD) provision.
One big mistake when introducing new technology into teaching is either too much or too little professional development. Teachers that struggle with tech themselves might feel overwhelmed if you introduce too much too soon. On the flip side, if you don't provide enough training, teachers may feel isolated or unable to cope. It's crucial to have a plan for effective training, using input from staff members to guide and direct.
CPD also needs to be focused on being of value to teachers facing the hurdle of technology. How often do these teachers say, "Why would I try this when I've been doing just fine without it all these years?". If you are planning CPD for the whole year, poll your teachers and ask what tech-related areas they would like to focus on. Select only one or two of these areas and make a concerted effort to help those teachers who are struggling.
And lastly it's crucial to make time for CPD. Allowing teachers to meet and collaborate with each other is a vital part of building a successful environment to support student learning, especially regarding the use of technology.
So solving a digital skills shortage starts with teachers, and their proficiency with technology is a crucial catalyst for success.
But, even with the best CPD and resources available, it's important to remember that some teachers will still struggle. It's crucial that a supportive environment is fostered where teachers feel empowered to learn and develop. Encourage them and celebrate their willingness to try new things. Focus on the learning and share their successes.
At Instructure, we have vast experience in helping universities embrace technology for the greater good, see how we can help you too.
Keep learning,
The Canvas Team
0
Related Content