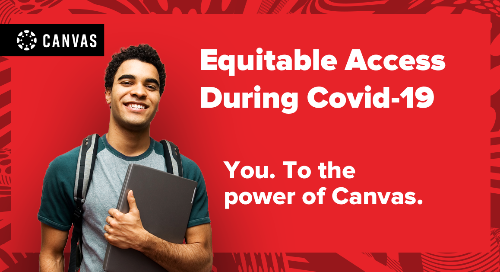 In October 2020, during the COVID-19 pandemic, Instructure hosted its first ever virtual CanvasCon. In the backdrop of the monumental change brought about by lockdowns, school closures, and hundreds of web-conference meetings, Samantha Blyth, Senior Sales Director, organised a showcase of leading and innovative Canvas institutions, discussing how they have adapted to the new normal.
Equitable Access is the notion that every student in a classroom or online course should have the same opportunities as any other student - whether that is facilities, an excellent tutor, or resources like books. More common, in recent years, Equitable Access is the notion that we must make a greater effort to support students who may not have internet access, a place to study at home, or a digital device. With campuses closing due to COVID-19, a previous safe haven for institutions to provide additional support to those who need it has been removed. This blog showcases how Viden Djurs, a specialist digital education institution in Denmark, used virtual reality to help students work better during the pandemic.
---
VIDEN DJURS
---
Based in Djursland, Denmark, with students across Denmark, Greenland and the Faroe Islands

High school, further education and professional education school, specialising in 3D design and innovation
Have been using Canvas LMS since 2016
Represented by Bo Størup Nielsen, Digital Project Leader for VID Detail, their specialist Retail department
As a specialist education provider in Denmark, Viden Djurs has a number of faculties delivering vocational education. Sam Blyth opened the conversation with a question:
"We have all heard lots of comments around 'You can't do practical education (like vocational training) online', but I understand that you've had a very different experience?"
Just a few years ago, the idea of delivering retail training - customer service, hotelier training, fashion retail - in an online environment would be one that's hard to contemplate. The shift to online learning, caused by COVID-19, meant that VID Djurs had to take extra special measures to ensure vocational training was possible. This need was heightened even more so due to VID Djurs having students in rural Greenland. When Denmark entered lockdown, travelling to Greenland to teach was restricted. As you can imagine, a student of Retail Fashion, in lockdown in Greenland, would not have the same opportunities to succeed as a student in Denmark.
Knowing of Canvas' ability to integrate specialist tools, Bo scoured the internet for a practical solution to recreating Retail experiences online. Thanks to Canvas' openness, Bo used a tool called Mattaport to embed 3D models of stores into Canvas, ensuring students do not need to leave their online learning environment. More interestingly, once embedded inside Canvas, students could experience a retail store from their Canvas Student app. They can view the 3D model, and teachers can set questions in the student's environment. Students can enter a store, look around, and talk about what is happening in the 3D environment. This made for very interesting, and very realistic, learning environments for students in Greenland.
Using virtual reality elements, students were able to take the practicality of this further. By combining their mobile phone with Google goggles, they were able to walk around and talk to customers. All of this was possible due to Canvas' openness, and the ability to embed...well, just about anything. The initiative worked perfectly, and Bo received great feedback from students.
You can also read more about Instructure's State of Student Success, which covers many elements of Equitable Access, here:
www.instructure.com/canvas/en-gb/resources/home/infographic-the-state-of-student-success-in-emea
Related Content
Blogpost LearningMate-Instructure - AI quiz generator V2 (1).png