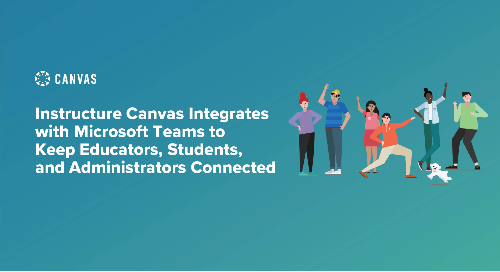 As more and more schools move to remote teaching and online learning in response to COVID-19, Instructure and Microsoft are working together to ensure administrators, educators, and students can remain connected. That is why we have integrated Teams meetings into Canvas so you can easily create online meetings directly from Canvas for your classes to meet virtually.
In these uncertain times, we know that connection matters. Distance does not have to equal lack of communication and should not mean our students lose access to education. At Instructure, we are committed to working closely with our Canvas partners to provide tools that help schools and universities stay connected to learning resources and, more importantly, to each other.
Integrating Canvas with Teams meetings is the result of hundreds of dedicated, talented people coming together to do what we can for academic institutions at this time. We're partnering in unprecedented ways to keep lines of communication open and so students, faculty, and staff can stay focused on learning. Teams helps make this possible and is now available in Canvas. See below for more details on how to get started.
Integration Details
Canvas customers with Microsoft accounts can create audio and video conference calls (meetings) using the Microsoft Teams integration with Canvas for free (Microsoft Teams is included in Office 365 A1, which is free for educational institutions). The integration provides an easy way to create a Microsoft Teams Meeting from within the Canvas LMS Rich Content Editor, calendar, discussions, pages, or assignments.
The Microsoft Teams Meetings LTI can be viewed in the new or classic Rich Content Editor. It's important to note that the LTI will only display for events created in course calendars. In addition, Teams Meetings settings can be customized by an institution's Microsoft Edu account administrator.
Getting Started
General information about enabling Teams for your educational institution can be found at:
https://www.microsoft.com/en-us/education/remote-learning
Detailed information about enabling Microsoft Teams Meetings for Canvas can be found in the Canvas Community. Customers can log in and learn about how they can install Teams.
Visual Guide* to Canvas + Teams Meetings
Keep Learning,
Tara
*All images used with permission from Instructure and Microsoft.
Related Content
hyflexteachingusingtechtoenhancelearningopportunities_.jpg

DigitalBadging12StepsforEffectiveImplementation.jpg