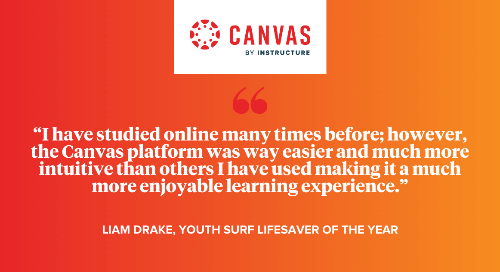 Surf Life Saving NSW online training course records high level of completion
Since taking its Training Officer Certificate Course online, Surf Life Saving NSW (SLSNSW) is reporting higher levels of participation and a completion rate of 85%.
The Training Officer Certificate Course has been reimagined through a platform called Canvas with the online platform capable of reaching more people and increasing the consistency of course delivery across the state.
Regular touch points combined with proactive course material guided by dedicated instructors is proving hugely successful and addressing the need for more Trainers across NSW.
Ocean Beach SLSC's Liam Drake – the current Youth Surf Lifesaver of the Year and a recent course participant – was glowing in his praise for its revamped delivery.
Drake advised "I have studied online many times before; however, the Canvas platform was way easier and much more intuitive than others I have used making it a much more enjoyable learning experience.
"The Virtual Classroom and Induction sessions were great, we got to meet our dedicated Facilitator and those in our Branch and team, I felt supported whenever I had any questions and the information we as students requested was always provided.
"Being able to study at any time worked out really well for me balancing an already time consuming (work) load. This enabled me to complete the course at times that best suited."
The flexibility the course now offers allows participants to complete assigned tasks in their own time.
Run on a quarterly basis, following the most recent course which ended in late November, 118 members have obtained the Training Officer Certificate through this process.
Another of those members is Rebecca Austin of Pacific Palms SLSC, who commended SLSNSW on the experience created through the course.
Austin added "I really enjoyed the flexibility of being able to fit the study in with busy work family balance. I have actually studied online before, but it wasn't a great experience, coming into this course I was a bit hesitant, but the Facilitators were very supportive and Canvas was so easy to use and navigate.
"It made it a really positive learning experience and I finished the course with a new qualification I wouldn't have received otherwise.
"Jo and the team were great, any questions I had were answered promptly and all of the information we needed as students was readily available, if given the option again I would definitely choose to study and learn via this system."
Written by Australasian Leisure Management