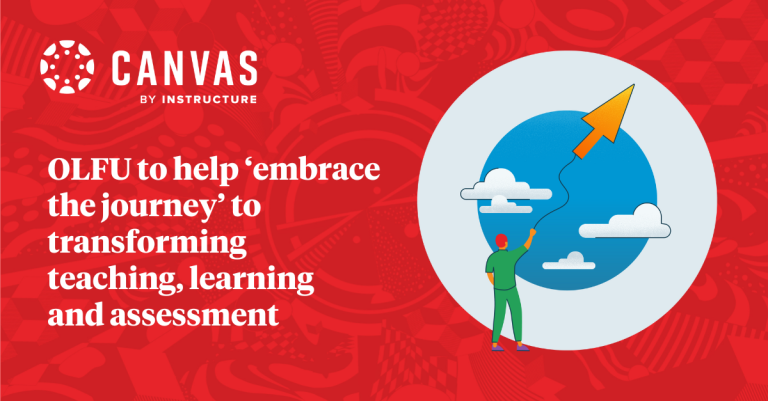 OLFU to help 'embrace the journey' to transforming teaching, learning and assessment.png
Embracing students' minds, hearts, and hands are at the center of an award-winning, innovative teaching, learning, and assessment model. 
Dr Caroline Marian Santos-Enriquez, President of the Our Lady of Fatima University (OLFU), says it's transforming how her Philippine university operates. She spoke at the 2022 APAC InstructureCon. See the full presentation here.
As one of this developing country's largest autonomous universities, OLFU offers comprehensive courses with strengths in health and basic education. In 2020, the government awarded it a Philippine Quality Award for performance excellence. 
Caroline said: "A lot of studies are telling us that disengagement and dropouts are common in flexible courses, particularly during the pandemic. High-intensity student engagement online is important. Our philosophy of minds, hearts and hands helps stimulate students' cognitive and effective learning to boost participation." 
Spotlight on authentic learning
OLFU also has government recognition and accreditation for its Smart Classes for Authentic Learning Experience (S.C.A.L.E) HyFlex Model. It's become the Philippine benchmark for the gradual and safe reopening of classes during the pandemic, and the model is future fit.
Caroline, who won a Trailblazer in Inclusion Award from the Bett Asia Awards in October 2022, said: "We drew on data and research to understand our students' needs and technological competencies. That allowed us to tailor teaching, learning and assessment to their requirements to ensure learning continuity, document standardisation, quality assurance and continuous assessment." 
People, processes, products, and groups are the focus of the S.C.A.L.E HyFlex model. From those concepts, unfurl the categories of teachers, learners and collaborators, then a total of nine sub-areas.
For 'people', the universities reviewed the needs of teachers, learners and collaborators, for example. 'Process' means unpacking learning approaches and communication mechanisms. Meanwhile, for 'product', OLFU considered technology, location or geography, and the individual context needs of each of its six campuses. 
Highlights of the S.C.A.L.E HyFlex model:
Uses a proven formula for student engagement. For example, instructor-led courses are 70% synchronous and 30% asynchronous (independent learning). 

Considers students' attitudes, digital literacy, and self-efficacy in its approach to positive online learning behaviour.

Stimulates students' senses to actively involve them in their learning rather than just telling or showing them.

Harnesses 'smart classes' using augmented and virtual reality (VR) remotely through smartphones or VR headsets in person, including allowing students to see and virtually dissect anatomically lifelike models.

Infuses joy and learning in online activities such as through flipped learning, the free video-based discussion and sharing app

Flip

, and gamification.

Fosters learning communities through group and teamwork, collaborative spaces, and using the Metaverse.

Offers an online concierge for students, such as with 'look books' as primarily photographic guides to the university's support services, which include resilience and mental health webinars. 

Advances academic integrity for assessment by building a new pool of questions and activities and setting up a secure process to award digital badges to recognise individual achievements.
The university also used the pillars of social responsibility, good governance, research, and innovation to underpin its holistic solution to the pandemic's challenges.
How the pandemic triggered change
The Philippines experienced one of the globe's longest and strictest pandemic lockdowns, said Caroline. 
"With 3.5 million students at tertiary level [across the country], these lockdowns posed tremendous challenges to the higher education sector since access to stable internet-connected gadgets and funds for these are limited."
In late 2021, Bloomberg's Covid Resilience Ranking placed the country as the worst place to be during the pandemic. Schools were shut down for two-and-a-half years (before re-opening in late August 2022). 
By the end of October 2022, the Philippines, home to about 113 million people, had reported almost 4 million confirmed COVID-19 cases and 63,699 deaths in total, says the World Health Organisation. 
Despite the health challenges, the Philippine Commission on Higher Education said that "learning must continue". It mandated that higher education institutions implement flexible learning and teaching options and use appropriate systems for pedagogies and modalities.
Making authentic learning happen
For OLFU, the unpredictability of lockdowns was initially challenging for authentic learning, said Caroline. That's why her university advocated publicly for a gradual and safe return to face-to-face teaching. The Philippine government endorsed OLFU's approach using the S.C.A.L.E./HyFlex model. It was the first private education institution in the country to get clearance to resume in-person classes.
What helped was having a robust LMS in place. OLFU first employed Canvas as a university-wide LMS in 2019 to comply with the Philippine higher education accreditation body. The LMS has proven a great fit for students, with nine in 10 accessing Canvas via their mobile phones. You can find out more about how OLFU embraces the Canvas journey.
The university has a dedicated edtech powerhouse – the ELITE Center to support LMS implementation. It stands for education, learning, innovation and technology enhancement. Marissa G Chua is the Director. 
"The Canvas LMS served as a backbone of our teaching, learning and assessment delivery. Using it, we explored blending learning strategies, piloting different scenarios, and identifying current and relevant best practice … for synchronous and asynchronous learning."
Marissa said the challenges of "unchartered waters" during the pandemic had taught OLFU to become more resilient, agile and innovative. It's also the stimulus to further possible change.
Meanwhile, OLFU's Director of Research Development & Innovation, Michael Joseph Diño, added that learning would "never be the same again," even after the pandemic. 

Learn more about how the Canvas LMS can help your institution embrace the journey whatever the future holds.