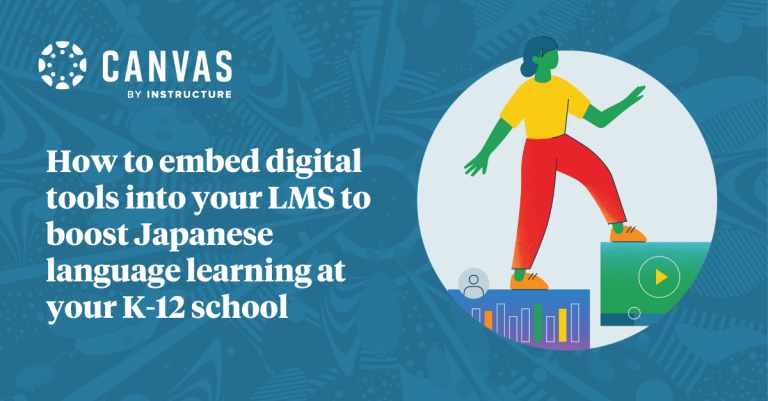 Using physical Post-it Notes to check for students' understanding in each lesson used to be effective for Japanese language teacher Peter White from Sydney Catholic Schools. 
But there were downsides. 
Soon after each lesson, the Post-it Notes were thrown out, and over time it "got expensive" to keep buying the notes, said Peter, whose role is Teacher Digital Online Curriculum - Leadership Innovation. 
"I also used to stop students individually at the classroom door and ask them what they'd learnt that lesson, but that was time-consuming. I thought, 'how could we impact on that learning, collect that information [including from the Post-it Notes] and help students learn more?'."
When digital Post-it Notes became available, it started to "revolutionise how feedback is delivered in the classroom" and allow for recording.
A digital technology ecosystem for learning
Digital notes – via the online bulletin board Padlet – are part of the digital tools package embedded in Canvas, his school's learning management system (LMS). Peter spoke at APAC InstructureCon 2022 about how digital technology has expanded blended learning for Sydney Catholic Schools.
"The Canvas platform is intuitive for the user, easy to use and navigate for the teacher so you can deliver very professional courses to your students in classrooms and online," said Peter.
He was part of the innovation team that developed the K-12 online Japanese program. Stages 2, 3, and 4 sections of this have won multiple awards. More recently, he had a steering role in creating the senior high school program.
The school's portal for learning, hosted on the Canvas LMS, features colour-coded sections, Japanese animation storyboards, interactive videos, lesson plans, quizzes, a 'culture corner', a 'go beyond' section for extension students, and more. Canvas LMS helps build consistency because common course templates can be used for all year levels, and teachers can embed quick reference guides by using Canvas and Zoom. For Japanese language learning at Sydney Catholic Schools, there's no textbook – the courses have been developed from scratch.
Students can access the online dictionary, Jisho, which is embedded into Canvas. It also helps instruct how to write Japanese characters.
"The difficult thing to teach online is the writing, especially Kanji, which is a NESA requirement. Knowing the correct stroke order is very important; students can watch videos as often as they like to learn it," said Peter. 
Those students joining the course late or missing chunks can view Peter's lesson recordings. 
Making learning stick
The school has embedded a digital tool, Education Perfect, into the LMS to assign tasks. Peter sets a new topic each week, and as students work through the tasks, the tool gives them automatic feedback. Then, if needed, Education Perfect assigns them remedial tasks to improve their understanding.
The tool is also handy for embedding practice exams for revision and offers model answers for timely feedback. And, when it's time to do the 'real' exam, Education Perfect allows it to be embedded into the Canvas course. Students receive an access code to unlock that assessment when the appropriate date and time have arrived. 
To build up that knowledge, Peter uses the live discussion board Padlet to encourage engagement and give students immediate feedback.
"We can look back on [previous weeks] of Padlet activity, whereas with Post-it Notes, we'd have thrown those away," said Peter.
Quizlet – including the live version – is also harnessed as a formative assessment approach.
For data analytics on media files featured in the lessons, he uses Canvas Studio. Rubrics for learning outcomes covering reading, listening, writing and speaking Japanese are fed into the SpeedGrader tool. It allows assignment submissions to be viewed in one place.
Peter said: "What's wonderful is that in Canvas, you can set up a student's progress – an important self-management study skill that helps them keep an eye on what they've completed and the gaps in their learning. They can easily see how much they've accomplished as they progress through the course."

That means he can nudge them to complete lessons they've missed - "there's no more assuming they've done it".  
"I can pinpoint student learning gaps through data collection on Canvas in my courses. It allows timely and effective feedback strategies and reports to key stakeholders to improve my students' understanding and ability."
Wide range of inspiration
Thanks to professional learning and his reading, Peter took a research-backed approach to harness digital tools and Canvas LMS. To embrace the journey, he drew inspiration for his blended learning approach from:
He'll keep refining his digital technology ecosystem for Japanese teaching and learning. Find out more by viewing his full InstructureCon presentation.