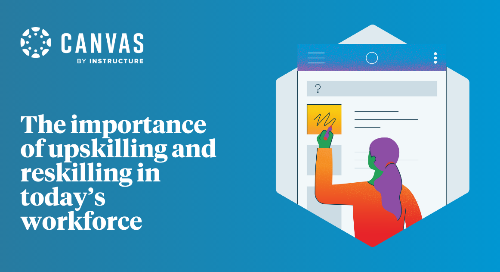 The world of work is changing

The world of work is drastically changing. Not only are jobs changing with the emergence of millions of jobs based on new technology such as AI, robotics, net-zero, automation and blockchain, but the skills required of workers are also in flux. This puts pressure on employees to upskill in order to remain competitive in the employment market. Employees need to learn and 'relearn' skills at all stages of their career to stay relevant to the workplace.
"The skills required in the workforce are changing fast. Jobs are changing on you, even if you're not changing jobs", says Linda Cai, vice-president of talent development at LinkedIn
"Recent LinkedIn data shows skill sets for jobs have changed by around 25% since 2015. By 2027, this number is expected to double."
In our recent webinar on Upskilling, Re-skilling and Re-defining the future of Further Education we spoke to Deborah Millar who works for the ​​Grimsby Institute as Group Executive Director at the TEC Partnership, to understand how these changes were affecting further education. Generation Z and Alpha learners will be living in a completely technology-enabled world. In preparation for this, the TEC Partnership wants to enable teachers to deliver their courses while looking at the future and how technology impacts that course. By considering what's changing in that industry, teachers are encouraged to think about how they can prepare students for these developments. In this process, both teachers and students are informed and teachers are encouraged to use the tools that will save them time in the long run.
Student Level Up

The TEC Partnership launched the Student Level Up programme as a way to offer short digital courses for which students could receive badges upon completion. This programme started in 2018 with six programmes focused on induction at Grimsby Institute and how students could maximise their time spent at the college and has grown to over 50 online courses. There are learning paths suitable for students in further education and higher education, and they have widened the number of students that can access these programmes by creating mobile-friendly courses. Now students can complete a short digital course, receive accreditation in the form of a badge and feel confident knowing they are better prepared for work after their studies. The upcoming syllabus will be on sustainability and digital skills.
In order to meet the changing demands of the workplace, further education is changing on a national level with the introduction of T Levels and more recognition of micro-credentials.
T Levels

T Levels are new 2-year courses which are taken after GCSEs and are broadly equivalent in size to 3 A Levels. Launched in September 2020, these courses have been developed in collaboration with employers and education providers so that the content meets the needs of the industry and prepares students for entry into skilled employment, an apprenticeship or related technical study through further or higher education.
As the worlds of education and work become less separate we are moving towards a place in which students are not just theoretically equipped for their chosen area of study but are developing the technical knowledge and skills required by employers in their industry. Find out more about Upskilling and Reskilling by watching our on-demand webinar.
Sources:
https://www.bbc.com/worklife/article/20220412-what-upskilling-means-for-the-future-of-work
https://www.gov.uk/government/publications/introduction-of-t-levels/introduction-of-t-levels

.

Related Content
Blogpost LearningMate-Instructure - AI quiz generator V2 (1).png