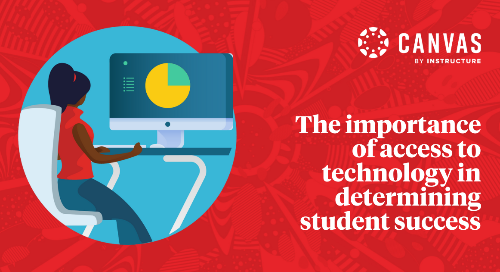 The need for an online learning ecosystem that can support equitable access, improve content creation and instruction among educators and allow students to present their university projects in a way that gives them an advantage in securing internship opportunities, cannot be overstated. According to our most recent survey, the use of educational technology resources and available technology are the most impactful factors driving student success in South Africa. Taking that into account, institutions may believe that they simply need to provide technology that makes studying easier for students. However, research shows that this, in isolation, is simply not enough. In our survey, educators, administrators and students provide insight into the bigger picture. Out of 190 respondents, we can see the percentage of individuals that attribute student success to the following eight factors:
available technology - 95%
use of educational technology resources - 95%
quality of faculty - 94%
internship opportunities - 94%
engaging content and instruction - 94%
research opportunities - 93%
academic assistance e.g. tutoring - 93%
hands on instruction - 93%​
Equitable access to technology and other socioeconomic factors must be considered in evaluating student success
It is important to note that while the use of educational technology resources and providing good research opportunities sit within the institution's control, there are several socioeconomic factors at play. From a socioeconomic perspective, respondents cited access to the internet and access to technological devices as key factors affecting student success. It is clear that student success has to be reviewed holistically, as respondents identify mental health and environmental factors as additional components in determining student success, and believe it is the responsibility of faculty to shape students. Our survey identifies the six socioeconomic factors cited by respondents that can determine student success and the most prevalent ways in which institutions support students.
access to learning resources - 98%
access to the internet - 95 %
psychological wellbeing - 95%
access to technological devices e.g, computer, smartphone - 92%
access to mental health resources - 92%
access to quality healthcare - 91%
safety in the home - 91%​
In South Africa, providing equitable access for students is at the forefront of the minds of educators and administrators. Equitable Access is the notion that every student in a classroom or online course should have the same opportunities as any other student - whether that be facilities, an excellent tutor, or resources like books. More common, in recent years, Equitable Access is the notion that we must make greater effort to lower the barriers that disproportionately impact students with less socioeconomic benefits. This includes supporting students who may not have internet access, a place to study at home, or a digital device. With campuses closing due to COVID-19, a previous safe haven for institutions to provide additional support to those who need it has been removed.
Institutions within the country understand their responsibility to address student struggles by providing academic support as well as laptops and tablets for student use. This is combined with a range of initiatives institutions have implemented to support students' holistic needs. Out of our 190 respondents, the following initiatives were identified:
Student academic support - 69%
Laptops or tablets for student use - 66%
Student Housing - 55%
Student healthcare options - 54%
Career development services - 52%
Educational technology resources - 52%​
What is technology being used for and how is it contributing to student engagement?
Over the past two years, the role of technology in communicating with students and keeping them engaged has increased significantly. While institutions continue to provide traditional in-person initiatives to keep students engaged, such as allowing students to book office hours with faculty, many institutions have turned to technology to engage with students when in-person interaction was not an option. Since the pandemic, only 11% of respondents in South Africa are back to in-person learning with 51% staying at full-time online learning and 38% remaining at part-time remote learning. Hence, the role of technology remains a key priority and our respondents identified that institutions have implemented the following solutions:
Video communications system - 67%
Collaboration and administration tools - 52%
eLearning portals - 51%
Classroom management tools - 41%
Virtual learning environments - 36%
Learning management system - 35%​
Despite these efforts, only 19% of the students we spoke to find it easy to remain engaged during remote learning. 55% of the students responding find it more difficult to maintain their focus during online learning and more than half of administrators think it is difficult to keep students engaged during remote learning. Admins find student participation declining because they feel that online learning allows students to attend, but not participate, in class. In these cases, we can see how crucial the decision is for an institution to select the right learning management platform that can provide a robust LMS, an interactive video tool and a great way to manage assessments and quizzes.
When asked what their LMS is used for, institutions responded with the following:
Assessments, tests and quizzes - 87%
Communication - 85%
Homework and assignments - 82%
Sharing of materials - 79%
Conducting classes - 78%
Course Access through mobile apps - 78%​

​
Our survey shows that most institutions utilise learning management systems for assessments, tests and quizzes, but it is clear that institutions need a broader perspective, considering how their learning management system fits into the wider learning ecosystem. Institutions must consider how their technology choices support the future of learning which is likely to include more hybrid and remote learning. Learning Management Systems, like Canvas, are able to provide much more than testing and assessment functionality. Canvas provides innovative communication solutions which are intrinsic to meeting students' need for engagement, especially when learning remotely. To find out more about what is determining student engagement in South Africa, read our full report
Related Content
Blogpost LearningMate-Instructure - AI quiz generator V2 (1).png