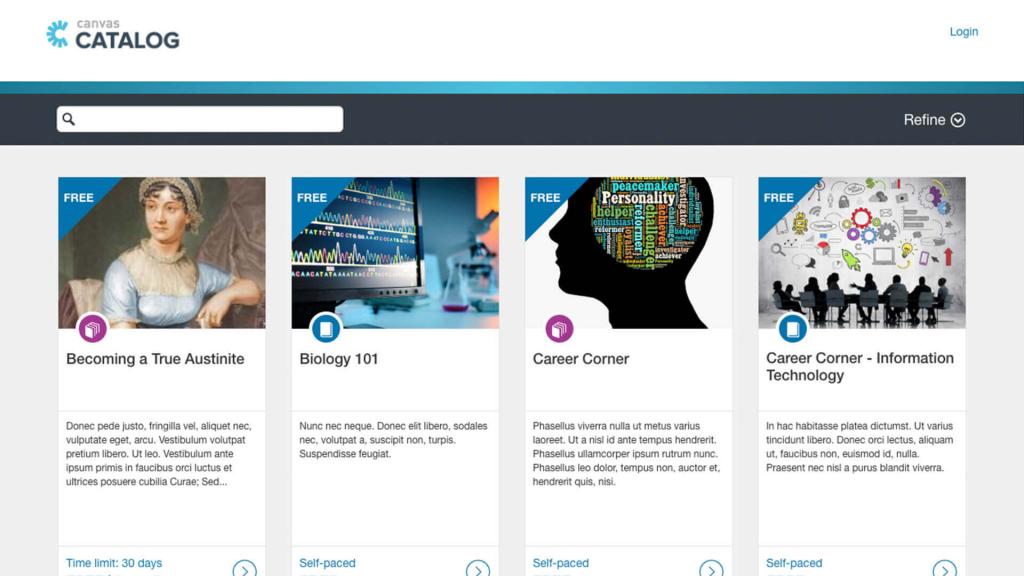 So, What Is Canvas Catalog?
Essentially, Canvas Catalog is a customisable storefront for your organisation's course and program offerings. But it's not just a storefront. Catalog lets you go deeper into your listing management—you can create custom landing pages to promote certain courses, make your offerings easily searchable, and, if applicable, integrate most payment systems for a seamless experience for students, teachers, and administrators alike.
How Is Canvas Catalog Related to the Canvas LMS?
Like the Canvas learning management system (LMS), Canvas Catalog is a cornerstone solution in the Canvas Learning Management Platform. Since both products are native to the platform, you can quickly and easily publish and market any Canvas LMS course with Catalog.
Who Can Use Canvas Catalog?
Canvas Catalog has useful applications in all sorts of learning environments, including:
K–12
Higher ed
Vocational training
Continuing education
Workplace learning
Catalog is ubiquitous in higher ed for listing, organising, promoting, and enrolling college and university students in courses and programs. But it's not just for traditional students. Catalog is the perfect tool for sharing educator training and professional development programs across your entire department or institution. It's awesome for organising and promoting post-secondary programs such as continuing education and vocational/trade school. And it's an easy and effective way to offer both mandatory trainings and self-directed learning experiences to employees at enterprise-level companies (especially those with a global workforce).
What Are the Benefits of Using Canvas Catalog?
It automates and simplifies the registration process, saving both teachers and administrators time.
It's brandable and customisable, so it can rep and reflect your school, institution, or company. Brand your listings with your organisation's name, logo, and domain, and even incorporate custom JavaScript (JS) and cascading style sheets (CSS). You can also create subcatalog listings branded to a specific department, organisation, or team.
It's user-friendly for both admins and students/learners. Admins can list dates, costs, credits, and course details. Students can search, filter, and refine listings, view listing details, view related listings, enroll, pay fees, or add themselves to a waitlist.
It's scalable and flexible. Promote in-person or online courses, programs, workshops, seminars, webinars—you name it. Keep your offerings small and localised, or open them to the institution, district, state, and beyond.
It offers institutional insights. Within a Canvas Catalog account, institutions can manage all course and program listings, manage catalogs, create promo codes for paid listings, view account reports, and access the API. You can also use Catalog to automatically issue certificates to learners upon course or program completion.
Related Content
navigatinggenerativeai.png

MeasuringWhatMattersSOA.png