Instructure's Melissa Loble named Chair of 1EdTech Board of Directors
Instructure's chief customer experience officer to further the 1EdTech mission to power learner potential
SALT LAKE CITY — March 31, 2023 — Instructure, the maker of Canvas, has announced that Melissa Loble, its chief customer experience officer, has been named chair of the board for 1EdTech, the world's leading non-profit collaboration dedicated to powering learner potential by fostering an open, trusted and innovative edtech ecosystem.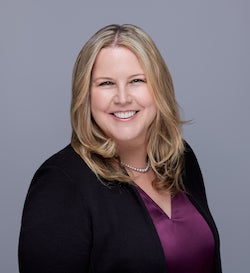 Loble brings a wealth of experience in the edtech industry to the role, having worked as an educator in both K-12 and higher education institutions and in executive leadership positions for over nine years at Instructure. With extensive experience leading teams across various disciplines throughout her career including client success, platform and partnerships, solutions engineering and professional services, Loble is uniquely positioned to lead the world's most united edtech community. She also serves in several advisory roles at organizations, including Internet2, Terracotta, and Utah Valley University.
"We're confident that with Melissa becoming Board chair, 1EdTech will make an even greater impact on the education industry," said Rob Abel, Ed.D., CEO of 1EdTech. "Our members are thankful for the leadership that Melissa has demonstrated toward the 1EdTech cause of an open, trusted, and innovative edtech ecosystem that works for all learners."
1EdTech is a global organization that brings together leading education technology companies, educators and thought leaders to foster innovation, collaboration and trust in the edtech space. As board chair, Loble will help guide the organization's strategic direction of encouraging open collaboration and edtech solutions that further learning. 
"I am honored to serve alongside so many passionate, accomplished leaders as we further the 1EdTech mission of powering learner potential," Loble said. "Everyone deserves access to quality education and I am committed to working to help make that a reality. Together we can make a real difference as we help learners reach their full potential through better digital education experiences." 
Loble earned a bachelor's degree in political science from the University of California, Los Angeles, a master's degree in educational policy from Teachers' College, Columbia University and a Master of Business Administration with an emphasis on leadership from the Columbia Business School. 
Loble will serve in this capacity for one year.
FORWARD-LOOKING STATEMENTS
This press release contains "forward-looking" statements, which are subject to the safe harbor provisions of the Private Securities Litigation Reform Act of 1995, including statements regarding the potential, timing and examples of any strategic alternatives. These statements are not guarantees of future performance, but are based on management's expectations as of the date of this press release and assumptions that are inherently subject to uncertainties, risks and changes in circumstances that are difficult to predict. Forward-looking statements involve known and unknown risks, uncertainties and other factors that may cause actual results, performance or achievements to be materially different from any future results, performance or achievements. Important factors that could cause actual results to differ materially from those expressed or implied by these forward-looking statements include the risk factors described in the Company's annual report on Form 10-K filed with the Securities and Exchange Commission (the "SEC") on February 22, 2022 and other documents filed with the SEC and could cause actual results to vary from expectations. All information provided in this press release is as of the date hereof and Instructure undertakes no duty to update this information except as required by law
About Instructure
Instructure (NYSE: INST) is an education technology company dedicated to elevating student success, amplifying the power of teaching, and inspiring everyone to learn together. Today the Instructure Learning Platform supports tens of millions of educators and learners around the
world. Learn more at www.instructure.com/en-gb.
Contact
Brian Watkins
Corporate Communications
Share