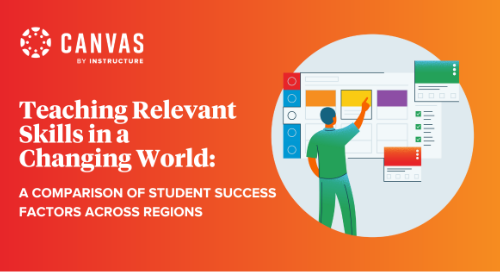 What does student success look like across different regions throughout the world?
Across North America (NORAM), Latin America (LATAM), and the Asia Pacific (APAC), students and administrators are defining student success by their level of preparedness for a career, according to the 2022 State of Student Success and Engagement in Higher Education. In this report, we asked students, faculty, and administrators around the world which factors they believe contribute most to student success and engagement in higher education.
Although in Europe, the Middle East and Africa (EMEA), skill competency ranks slightly higher than career readiness, every region agrees that career readiness will be more important in the next 12 months, as it has in previous years.
Given its growing importance, there's no surprise that 32% of students and 29% of administrators globally say that career readiness is also the area most needing improvement. These findings are markedly lower than in 2021, and roughly in line with 2020. A deeper dive into the research suggests that institutions are offering career readiness support, but students may be unaware.
A Need to Increase Awareness of Career Development Services
In comparison with faculty, our survey found students are less likely to report that they have career development services available on campus (33% vs. 36%). Like previous years' findings, this difference may be due to an information gap: students may not be fully aware of the services available to them.
And according to the report, awareness and/or availability of career development services appears to be waning from 2021 to 2022. Last year, 38% of students and 42% of administrators cited that these resources were used by their institution to support student success struggles.
To better support the career readiness of students, institutions should make every effort to increase the awareness of any career development services they offer – among both students and administrators.
Career Readiness: A Team Sport
With students largely focused on their readiness to enter the workforce, skill development opportunities are becoming of high interest. This includes the ability to define realistic, determinable career aspirations and a practical plan for achieving their goals.
Providing students with the ability to record and share their marketable skills with faculty and future employees will grow in importance. Digital credentialing and skills portfolios help students showcase evidence of their academic achievement over time. They also help institutions validate competencies, drive engagement, improve completion, and increase enrollment across the gamut of learning opportunities for part-time, full-time, and even lifelong learners.
Faculty play an integral role in student success when they align curriculum with workforce outcomes and offer opportunities for students to build and demonstrate real-world competencies. Through experiential learning with businesses, community partners and alumni, institutions can further bridge the gap between students and the workforce.
How University of North Texas Helps Students Building Marketable Skills

Since 2016, the University of North Texas (UNT) has helped students develop the skills that can give them an edge in the job market. But over time, UNT discovered that enabling students to build skills wasn't enough. Without a way to visualize those skills, many students didn't fully understand them—and struggled to communicate their skills to potential employers.

A partnership between UNT's Career Connect program and Canvas Credentials is tackling that problem. UNT rolled out a Canvas Credentials-based Comprehensive Learner Record (CLR), a verifiable digital record that collects marketable skills in the form of badges and credentials. Capturing what's missing from the traditional academic transcript, the Learner Record helps students visualize and better understand the skills they've developed and makes it easy for students to share them with the outside world.
Get More Insights
For this report, we worked with Hanover Research to seek input from 7,572 students, administrators and faculty from 2-year, 4-year, public, and private higher education institutions across 23 countries. Each year, our goal is to define measurements of student success, identify factors for engagement, and shed light on the path ahead for higher education.
Interested in more findings from the 2022 State of Student Success and Engagement in Higher Education?
Related Content
MeasuringWhatMattersSOA.png

StrikingtheRightBalance.png

WhatisAndragogyThe AdultLearningTheory.jpg