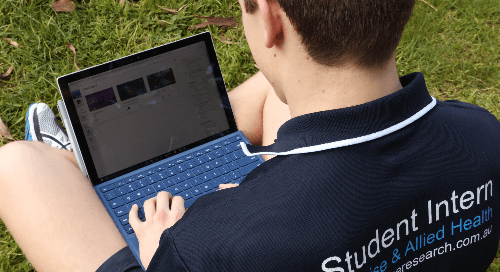 Stories of Change: Exercise Research Australia
Exercise Research Australia is a boutique registered training organisation (RTO) based in Melbourne. It offers education and training programs in the allied health, fitness, rehabilitation and sports science industries. For nearly a decade, Exercise Research Australia has provided training in accordance with the Victorian Registration and Qualifications Authority (VRQA), the state regulator for vocational education and training in Victoria. This ensures that the organisation meets quality standards and prepares graduates with industry-relevant training for their careers. 
The objective for Exercise Research Australia is to increase student engagement and quality of the learning experience to increase the number of students who complete programs industry ready. To make the material more engaging and allow students to learn at their own pace, the organisation wanted to offer a true blended model of learning using a flipped classroom approach. 
Exercise Research Australia chose the Canvas Learning Management Platform for building its digital strategy and technology toolkit from the ground up. Instructors were able to create interactive courses and more exciting content. Students could navigate a user interface that had intuitive workflows and integrations, and could stay connected through the Canvas mobile app.
"Now that we've adopted Canvas, it would be accurate to say that it's been a bit of a revolution in our business. Canvas is easy to use, intuitive and makes onboarding students and instructors take no time at all." 
-Dr Mellissa Arkinstall 
Managing Director, Exercise Research Australia 
Read the full case study to see why Canvas has allowed for greater innovation and accessibility at Exercise Research Australia. And check out how the Canvas Learning Management Platform is helping other institutions at www.instructure.com/canvas/en-au.